Our Board of Directors have provide direction to the organisation through thick and thin with their sound technical knowledge, excellent people management skills, deep insight into the future and the ability to manage finance perfectly.
With our operations in industries like Steel Manufacturing, Power Plants, Cement, Aluminium, Automobile, Mining, Oil & Gas, Railways, Earth Moving Equipments, Infrastructure Developments and Solar Panels, we are constantly searching for new horizons. Innovation and creation are the constant goals at Mechsol which helps us provide effective and efficient solutions across industries we cater to.
We listen to our clients closely, understand requirements clearly, incorporate suggestions, open to new ideas and act pragmatically to deliver good and accurate solutions. We at Mechsol strive to provide customized solutions to best meet customer needs.
Our Management Team
Mechsol's well-qualified and experienced directors are in charge of Marketing, Finance, Planning Production, Quality and Service. The vision and direction provided by the management motivates the rest of the team members to deliver high quality and efficient solutions to our customer.
Each member of the Mechsol team is hand-picked to ensure the best in the market are at work with us. Each division of Mechsol is handled by highly qualified and experienced personnel. Every project is carefully handled by Project Managers who go the extra mile to ensure quality and quantity is not compromised. A strong foundation of skilled labour contract to handle erection and commission jobs is ably supported by these Project Managers. The central production and manufacturing unit oversees the activities at each level. Our interactive and responsive Customer Complaint Cell helps to address issues and challenges faced by customers during the entire project management cycle.
We also have a dream team of engineers who has over 150 man years of experience delivering quality. Regular updating and upgrading programs helps us keep pace with the latest industry technologies and trends.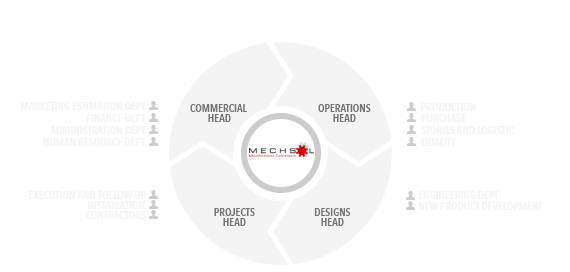 Philosophy and Values
We Grow with the Customer
We believe in delivering value to the customer, meet our customer requirements to the fullest every time and we grow when our customers grow bigger and better. Transparency in our dealings ensures growth process is mutually beneficial to both parties during the project and beyond completion of the project.
---
We are What Our Clients Make Us to Be
At Mechsol, we firmly believe in new learning and we have evolved as we handled each new projects over the years. We gain a new experience and lesson that makes us grow to what we are today. Our client's growth also ensures our place in the market and serves as example to others as well.
---
One Stop Solution for All Our Customers
Mechsol provides a broad spectrum of world-class products and services to all of its customers. We ensure that customer thoughts and requirements are perfectly aligned with our solutions and services.
---
Social Responsibility - We Care and Look
Our implementations and process takes into consideration the Green Environment and ensures we respect the nature for its place in the tomorrow. We ensure that our products and solutions not only satisfy the customers but also contribute to the make a better tomorrow
---
Mechsol Advantages
At Mechsol, we follow the industry best practices from project feasibility study to execution. Seamless integration between our products, services and clients ensures successful implementation and completion of projects. Mechsol is committed to provide High standards of quality, shorter time leads, value addition and leverage to business, yet another reason to partner with Mechsol for your needs.
---
Ethical Values we Practice

To be truthful and transparent in our dealings with customers and stakeholders.
---

To accept the concequences of our marketing decisions and strategies.
---

To be justice to the needs of the buyer with the interests of the seller.
---

To acknowledge the basic human dignity of all the stakeholders.
---

To fulfill the economic, legal, philanthropic and societal responsibilities that serve stakeholders in a strategic manner.
---